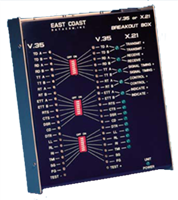 V.35 Breakout Box
X.21 Breakout Box
Features / Benefits
Serial Data Breakout Box

* Interface V.35 or X.21, V.35 Female Connectors and X.21 Adapter Cables

* Data Rates - Up to 10Mbps

* All Signals Supported

* Pulse Stretching Technique for positive LED Indications

* Crossover, Patch or Jumper any combination of leads

* Compact Simple Economical Design

* High Quality test tool for Test Labs

* AC Mains Powered

* Sturdy Metal Aluminum Enclosure
Description
The V.35 / X.21 Breakout Box is a troubleshooting tool used to determine the wiring of a V.35 or X.21 interface on a networking device or computer. The breakout box can be inserted between two V.35 or X.21 devices to determine which wires are active. Breakout boxes are useful in troubleshooting connection problems resulting from a manufacturers device not using standard pinning or general trouble shooting signals in cabling. The unit has status LED's for each signal and flash or are solid green. Each signal lead on the unit allows user to break, pass or force individual signals or jumper together.

When using a Breakout Box, the interpretation of the LEDS can at times be misleading. Many short term events, are undetected by a very brief flash of an LED. Also, constant events such as clocks or constant data may only be a faint glow on the LED. The V.35 Breakout Box contains circuitry to help alleviate this problem. A pulse stretching technique is used to keep the LED illuminated long enough to be interpreted.

The V.35 / X.21 Breakout Box is housed in a sturdy aluminum enclosure and is supplied with an internal linear power supply. The unit has a 110/120 volt rotary select switch located on the rear of the housing. The unit can operate on standard power found in all countries.

SPECIFICATIONS

Application
V35 breakout box is for the interconnection of two devices for confirmation or trouble shooting of data signals
Capacity
2-Ports passed through for monitoring
Rear Panel Serial Data Interface
Up to 10Mbps
Data Format
Data transparent at all data rates
Signal Options
Passed, Break or Jumper
Front Panel Indicators
POWER and all Signals
Surge Protection
Main power supply
Power Source
AC Mains: 100-120 to 200-220VAC @10%, 50/60Hz, 0.16/0.08A, external 110/220 volt select switch, IEC Power Inlet, (2) 5mm Fuses
Environmental
Operating Temperature . .32º to 122º F (0º to 50º C)

Relative Humidity.. . . . . . .5 to 95% Non-Condensing

Altitude. . . . . . . . . . . . . ... .0 to 10,000 feet

Dimensions
Height ....... 1.75 inches (4.44 cm)

Width ........ 9.00 inches (20.86 cm)

Length ....... 9.00 inches (20.86 cm)

Weight
3 pounds (1.36Kg)
Warranty
Three Years, Return to Factory
Ordering Information:
Part Number: 119000 Model: V.35 B-BOX Description: V.35 / X.21 Breakout Box, 110/220VAC
Included with each unit:
1) Operations Manual 2) Grounded Power Cord 3) Jumper Wires
Optional Accessories
1) Spare Data Center Fuses A) 160ma Fuse, Qty (2) Part # 714000 B) 80ma Fuse, Qty (2) Part # 714001